ACTprep.com'sClub Madness Challenge
This is an opportunity for a Tennessee high school club, team, or organization to win $5,000 by submitting a one-minute video about what the organization would do with that money.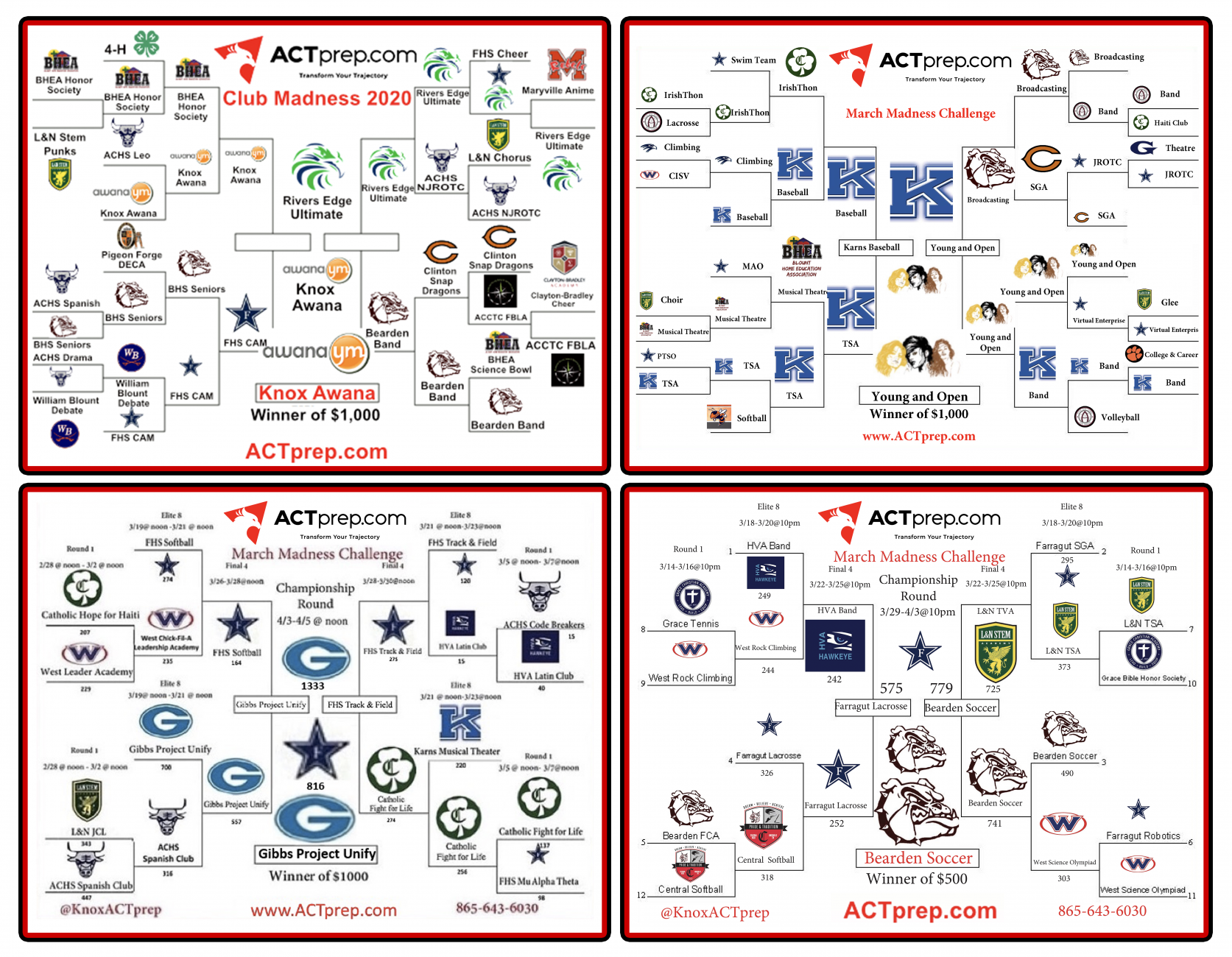 The Details
What

Win $5,000 for your club, team, or organization by creating a one-minute video about what your organization would do with the money. The advisor for the winning organization will also receive $1,000.
Every team who submits an eligible video will get at least $50. Teams will compete against one other in 24-hour rounds. The team with the most votes that round wins $100 more and advances to the next round. The team that wins six matches wins the $5,000. 

Who

All Tennessee high school clubs, teams, and organizations are eligible to compete.

When

The deadline to submit an application and video is March 1. We will seed the teams on a first-come-first-seed basis. The first 32 teams will be guaranteed a spot in the 64-team bracket. Teams who submit their video after the first 32 may need to win an extra round to get a spot in the competition.

How

Fill out the application below and submit your one-minute video about what your organization will do with the $5,000 if you win. The video must at some point mention ACTprep.com. The video does not need to be any good to win money. This is our fifth year doing it, and many teams have won hundreds of dollars simply by doing a selfie video with their phone. However, the teams that win the championship typically have a pretty good video. You can find a collection of past videos on our facebook page.
We will announce the dates of each team's first competition on March 8. Starting on March 13, the first clubs will be paired against one other video for a 24 hour period to battle to get the most votes in that time. The video with the most votes will advance to the next round. Every 24 hour competition a team wins gets them an additional $100. The team that wins all six of their rounds will win the $5,000 (and the $1,000 for their advisor). Teams will at most have one 24 hour competition per month.

Video Format

The video needs to be emailed to us at clubmadness@actprep.com. Our preferred format is mp4. Please do NOT send us a youtube link. We need the actual file. When you email us the video, please be sure to list your school and organization so we pair it with the appropriate application.

Flyers

If you would like flyers to post at your school, you can download a flyer here or contact us at 865-643-6030 to mail you some!