ACTprep.com'sClub Madness Challenge
Join Club Madness 2024 and Win Big!
Back for our sixth exciting year! Rally your school community and showcase the spirit of your high school club, team, or organization in a one-minute video, and you could win up to $5,000! Remember, it's not about the video quality; it's your ability to rally support for your cause that counts.
Jump into thrilling 24-hour voting rounds, where each victory boosts your prize by $100. Every participant is a winner, with a guaranteed minimum of $50. Plus, teams that submit their video by the Early Bird deadline on November 1st will secure a minimum prize of $75!
Ready to shine? Delve into the details below and embark on this wild journey with us!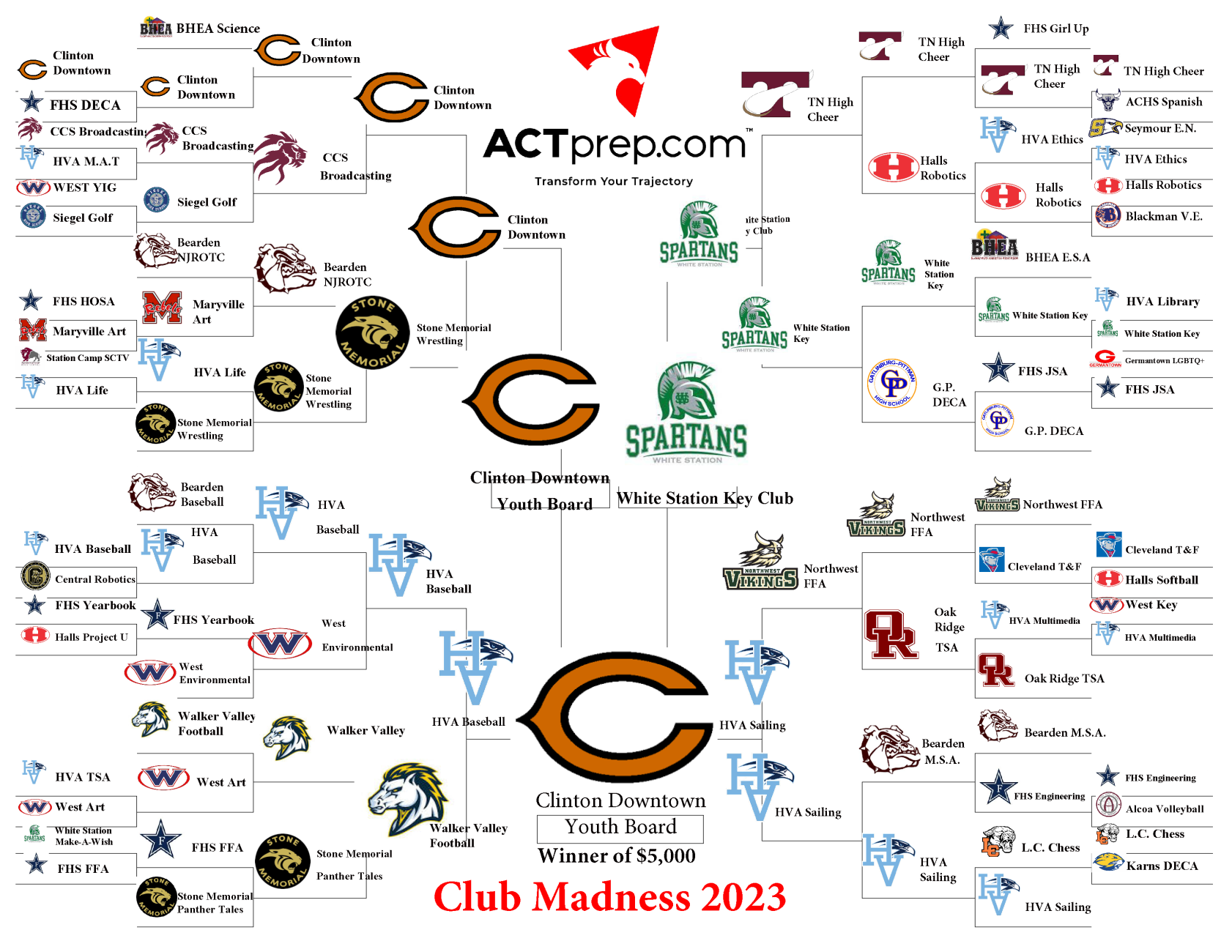 The Details
What

Create a one-minute video showcasing your club, team, or organization and what you would do with the $5,000 prize. Videos must also mention ACTprep.com (ensure you include the ".com") at some point during your video.
Every team who submits by December 12 will win at least $50. Submit before the early bird date of November 1 to guarantee a minimum amount of $75. Teams compete in 24-hour rounds. The team with the most votes during that round wins $100 more and advances to the next round. The overall winner receives $5,000.

Prize Breakdown:

0 wins = $50 (or $75 if submitted before November 1)
1 win = $100 total
2 wins = $200 total
... and so on ...
Teams receive winnings within two weeks of being knocked out of the tournament.
Who
All high school clubs, teams, and organizations are eligible to compete.
When
Submit your application and video by December 12. Early bird submissions before November 1 guarantee at least $75.
How
Complete the application (found at the bottom of this page), the media release forms provided below, and submit your one-minute video. Remember, the video's quality is NOT a deciding factor for winning. In the past, many teams have earned hundreds of dollars with straightforward selfie videos. The primary criterion for victory is your team's ability to garner support for your cause. Your video should introduce your organization briefly and explain how you'd use the $5,000 grand prize. Also, ensure you mention ACTprep.com, including the ".com", to avoid any revisions. For inspiration or to view previous submissions, check out our Facebook page.
We'll reveal the competition dates on Selection Sunday, January 7, 2024. Starting January 15, clubs will participate in 24-hour competitive rounds. Each win will add an extra $100 to your prize money. The grand prize is set at $5,000, with the Championship round planned for mid-May.
Video Format
Email your video to clubmadness@actprep.com in mp4 format. Do not send YouTube links. Include your school and organization in the email.
Media Release Form
Every student appearing in the video, as well as everyone involved in its production, must submit a media release form. For those under the age of 20, a parent's signature is required. Download the form here.
Flyers
Download flyers for your school here or call 865-643-6030 for mailed copies.